According to statistics, the foreign trade of Akmola region amounts to $ 783 million. Import prevails in the region's commodity turnover - 62% or $ 482 million, which decreased by $ 5 million.
The total export of the region is 300 million US dollars, of which: to the countries of the EAEU - 85 million US dollars, to the rest of the countries - 215 million US dollars.
Export structure of the region:
70.6% (US $ 212 million) - foodstuffs (wheat, wheat flour, rapeseed, lentils, flax seeds, barley, sunflower seeds, eggs, cattle meat, milk and cream), markets: Uzbekistan, Afghanistan , Tajikistan, Russia, Kyrgyzstan, Iran, Turkey, Mongolia, 11.5% (US $ 34 million) - machinery, equipment, instruments and apparatus (bearings, extruders, automatic control equipment), sales markets: Russia, Ukraine;
11.4% ($ 34 million) - products of the chemical industry (uranium, polypropylene, plastic pipes, polyethylene), sales markets: China, Russia, Tajikistan;
4.3% ($ 12 million) - metals and products from them (copper waste and scrap, air heaters, ferrous metal products, aluminum waste and scrap, zinc waste and scrap), market: Russia;
1.4% (4 million USD) - gold, sales market: Russia;
0.8% ($ 2 million) - the remaining product groups (coal, quartzite, ores and concentrates of precious metals, cement products).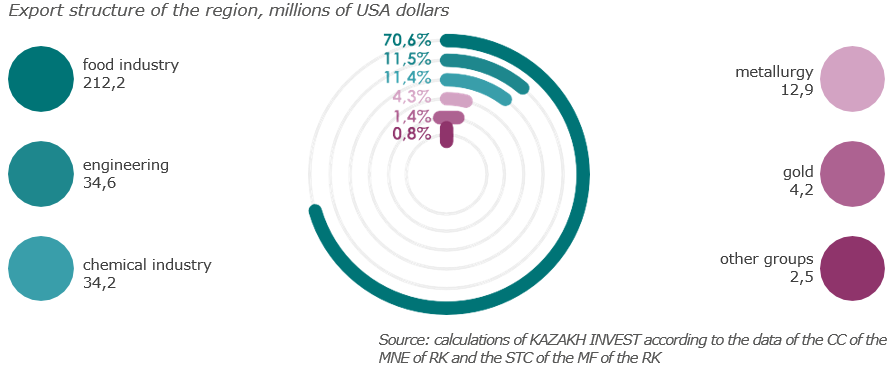 In the structure of exports of processed goods, the main share is made up of intermediate consumption goods - 91% of all processed goods, the share of capital goods and consumer goods is 6% and 3%, respectively.
Exports of finished goods amount to $ 96 million. The largest exports were wheat flour ($ 40 million), bearings ($ 28 million), extruders ($ 3 million), polypropylene ($ 3 million), air heaters (3 million . USD), products from ferrous metals (USD 3 million), plastic pipes (USD 3 million), polyethylene (USD 2 million), cattle meat (USD 2 million) and so forth
The region's export geography includes 26 countries. In export policy, the region is mainly focused on Russia - 24.9% of the share (bearings, gold, rapeseed, extruders, etc.), Uzbekistan - 23.5% (wheat, sunflower seeds) and Afghanistan - 15.7% (flour, wheat, flax seeds).
Exports of processed goods are mainly sent to the EEU countries - 45.8% and China - 19.8% share.
Country
millions
USА dollars
main export goods
Russia

75,0

bearings $ 27 million, gold $ 4.2 million, rapeseed $ 3.9 million

Uzbekistan

70,5

Wheat $ 59.2 million, sunflower seeds $ 4 million, wheat flour $ 3.4 million

Afghanistan

47,1

wheat flour 34 million dollars, wheat 8.1 million dollars, flax seeds 4 million dollars

Tajikistan

36,2

Wheat $ 31.5 million, eggs $ 1.5 million, wheat flour $ 1.4 million

China

29,7

uranium products 24.8 million dollars, wheat 3.8 million dollars, sunflower seeds 0.8 million dollars

Kyrgyzstan

10,2

wheat 8.4 million dollars, wheat flour 0.6 million dollars, polypropylene 0.5 million dollars

Iran

9,2

barley 4 million dollars, wheat 2.8 million dollars, rapeseed seeds 1.1 million dollars

Turkey

8,1

lentils $ 7.9 million

Mongolia

6,9

rapeseeds $ 6.6 million, sunflower seeds $ 0.2 million

Poland

2,3

flax seeds $ 1.6 million, wheat $ 0.4 million, rapeseed seeds $ 0.3 million

Netherlands

1,6

Wheat $ 1.5 million

Ukraine

1,0

$ 0.8 million bearings

Belgium

0,7

flax seeds $ 0.7 million

Bangladesh

0,6

rapeseeds $ 0.6 million

Germany

0,6

flax seeds $ 0.4 million, herbicides $ 0.1 million